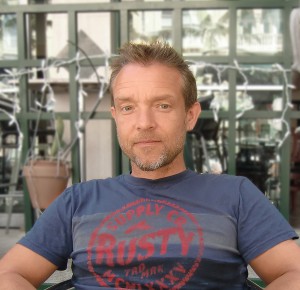 Mikkel Gram-Hansen
Founder & Owner
I work mainly in Photoshop to create digital design of all types and on all scales. I enjoy creative writing and have a knack for content organizing & flow. Specialties: UI/UX design, visuals, communications and community building.
Mikkel Gram-Hansen
SoloGram headquarters is located in rural Northern Jutland, Denmark, where founder/owner/worker Mikkel Gram-Hansen lives with his wife, a cat and a mountainbike.
SoloGram was formed shortly after graduating from the University of Aalborg with a bachelor degree in Human-Computer Science, so working solo and working from a home office have been the order of the day for nearly two decades.
An 8 year stretch of very close partnership with Swedish game studio, SimBin, means teamwork and team working abilities are as sharp as ever though. If anything, working as a distributed element of a core group teaches about the importance of communication, communication and more communication.
---
Mikkel is a Digital Designer, Community Builder and a proud crusader for Scandinavian Design and all things fun!
I work on the general principle that colors, shapes and textures should all be ruled with an iron hand by the overall goal of usability – the only only exception he makes is for art. Art doesn't have to be user-friendly.
I have 20 years of graphics oriented web design and web development under the belt, 15 years of hard labor doing community building, marketing & communication and last but by no means least, has a decade of UI design experience. The last handful of years I have migrated away from web oriented design and focused on visual design for AAA game titles (I do the menu you navigate while trying to get to the actual gameplay).
I am not a programmer, I am not a web programmer and I am not a computer technician… I'm the one you call in to make your thing look pretty, be  structured, be user friendly and have maximum impact.
If you have no idea what is what then don't worry. I know and I will tell you clearly if your project is not within my qualifications.
---
Besides being fascinated with all manners of design, I enjoy mountainbiking,(come sun or mud) and getting my hands dirty around our big old house that always lends itself to yet another DIY project.
Nothing clears the mind better than digging holes in the ground or chopping firewood.